Request
Please enter your wishes and we'll contact you with a quote
PURE VILLA LUNA | with car rental voucher included!
EEG Boulevard, Bonaire
An introduction...
Pure Villa Luna is your perfect luxury vacation rental villa on Bonaire! Located on the south side of Bonaire. Situated on the waterfront, our newly built (Summer '21) and fully loaded with "one of a kind" features and luxurious amenities.
The exclusive 7000 sq ft oceanfront location has its natural beach and a selection of Bonaire´s most popular scuba diving sites right in its backyard. This luxurious holiday accommodation is maintained and equipped to the highest standards.
The villa consists of 7 bedrooms and 7,5 bathrooms. In the lower floor you find 3 bedrooms all with their own unique feature. One bedroom has a waterfall shower in the room, the other has a window that lets you look into the pool and another has a comfortable bathtub. All bedrooms are generously spacious and have comfortable King size beds.
On the ground floor you find one bedroom with en-suite bathroom on the back side of the house. The 5th bedroom with steam shower is located at the front of the house. From this bedroom you can also open up the sliding doors and step onto the porch to jump into the swimming pool or jacuzzi.
Next to the 5th bedroom you find the fully equipped kitchen and living area with large smart tv! You can have a delicious breakfast/lunch/dinner inside at the large table or go outside and enjoy the Caribbean weather at the large table on the porch.
Upstairs are the two last bedrooms located which both have their own balcony. On the right side you find one bedroom with en-suite bathroom and balcony. On the left side you find the grand master bedroom! The master bedroom has a huge balcony and a beautiful en-suite bathroom containing a bathtub with an amazing view.
The Villa is situated next door to our Pure Villa Lotus and Villa Lexis, where these three houses can be rented together perfectly for large groups / combined families. (up to 32 guests)
Villas Luna and Lotus are adjacent to each other and can be booked together through shared decks or separated for added privacy. Whether for a party of 2 or family/group of 30, our villas are here to accommodate your needs.
We are also happy provide many services at the villa to make your stay more enjoyable, including private chef (breakfast, lunch, dinner), in-home fitness trainer, yoga, personal masseuse, dive butler (tank pick-up and delivery), island tour guide, private flight or boat charters, beach bbq and much more.
For special occasions or to better capture memories we also have a Glam Squad and professional photographer available.
Rates 2022
| | |
| --- | --- |
| LOW SEASON '22/'23 | |
| 1-6 Guests | USD 9.995,00 p/week |
| 7 Guests | USD 10.660,00 p/week |
| 8 Guests | USD 11.225,00 p/week |
| 9 Guests | USD 11.850,00 p/week |
| 10 Guests | USD 12.350,00 p/week |
| 11 Guests | USD 12.800,00 p/week |
| 12 Guests | USD 13.460,00 p/week |
| 13 Guests | USD 13.920,00 p/week |
| 14 Guests | USD 14.680,00 p/week |
| HIGH SEASON '22/'23 | |
| 1-6 Guests | USD 10.800,00 p/week |
| 7 Guests | USD 11.360,00 p/week |
| 8 Guests | USD 11.920,00 p/week |
| 9 Guests | USD 12.480,00 p/week |
| 10 Guests | USD 13.040,00 p/week |
| 11 Guests | USD 13.600,00 p/week |
| 12 Guests | USD 14.160,00 p/week |
| 13 Guests | USD 14.720,00 p/week |
| 14 Guests | USD 15.280,00 p/week |
| Excl. 15% Service Charge / excl. $ 5.50 tourist tax p/p per night (no tax for children < 13 years) | |
| A high-season surcharge of 20% will apply during Christmas period and a minimum stay of 14 nights | |
Amenities
Indoors
7 bedrooms, 7,5 bathrooms | accommodates up to 14 guests comfortably
Fully air conditioned bedrooms (all with King size beds)
Multi-zone air conditioning
Fully equipped kitchen with high class appliances, including large cooking island, American fridge, dishwasher, front loading washer and dryer and Keurig coffee machine.
Large indoor dining area
Smart TV
High speed wireless internet with uninterruptible power
Separate washing area with washer
Outside
Infinity swimming pool with panoramic ocean views
Dining table with lovely ocean view
Hot tub Jacuzzi
Direct acces to the ocean by entering the private beach area in front of the Villas
Private Parking
Services & extra
Included in your rental

Bubbels and fresh fruit at arrival in the Villa

Gas, water & electricity

Broadband Wireless Internet

Airconditioning

Intermediate cleaning service plus end of stay cleaning

Intermediate swimming pool cleaning

Linens and towels provided

Use washing machine

Exclusive use of the entire villa and outdoor facilities

Villa Manager at your disposal during the full length of your stay

Extra information

Children are very welcome!

Check-in from 4:00pm we ask you to leave the house before 10:00am on the day of departure

Our guests also receive discounted rates from rental car agencies, dive schools and other companies. When you are ready, I would gladly assist with more information on activities, bookings and other reservations. We are also excited to offer private island flight tour and/or affordable flights to Curacao and other neighboring islands.

Average cleaning time: 4 hours

Booking conditions

Reservations are considered valid after receipt of a down payment of 30% of the total rental costs. The balance must be paid 6 weeks before the day of arrival.

If your booking is made within 6 weeks before arrival, you are required to pay the full amount immediately. In case of cancellation more than 6 weeks before arrival 50% of the received down payment will be refunded. No refund will take place in case of cancellation within 6 weeks before arrival. We therefore recommend a comprehensive travel insurance.

As of July 1, 2022, a tourist tax of $75 per visit to Bonaire applies to all non-residents aged 13 and older. The tourist tax can be paid online in advance or upon arrival

Damage deposit

A damage deposit of 1000 USD requested. If no damages have to settled, it will be returned to you within a week after your return.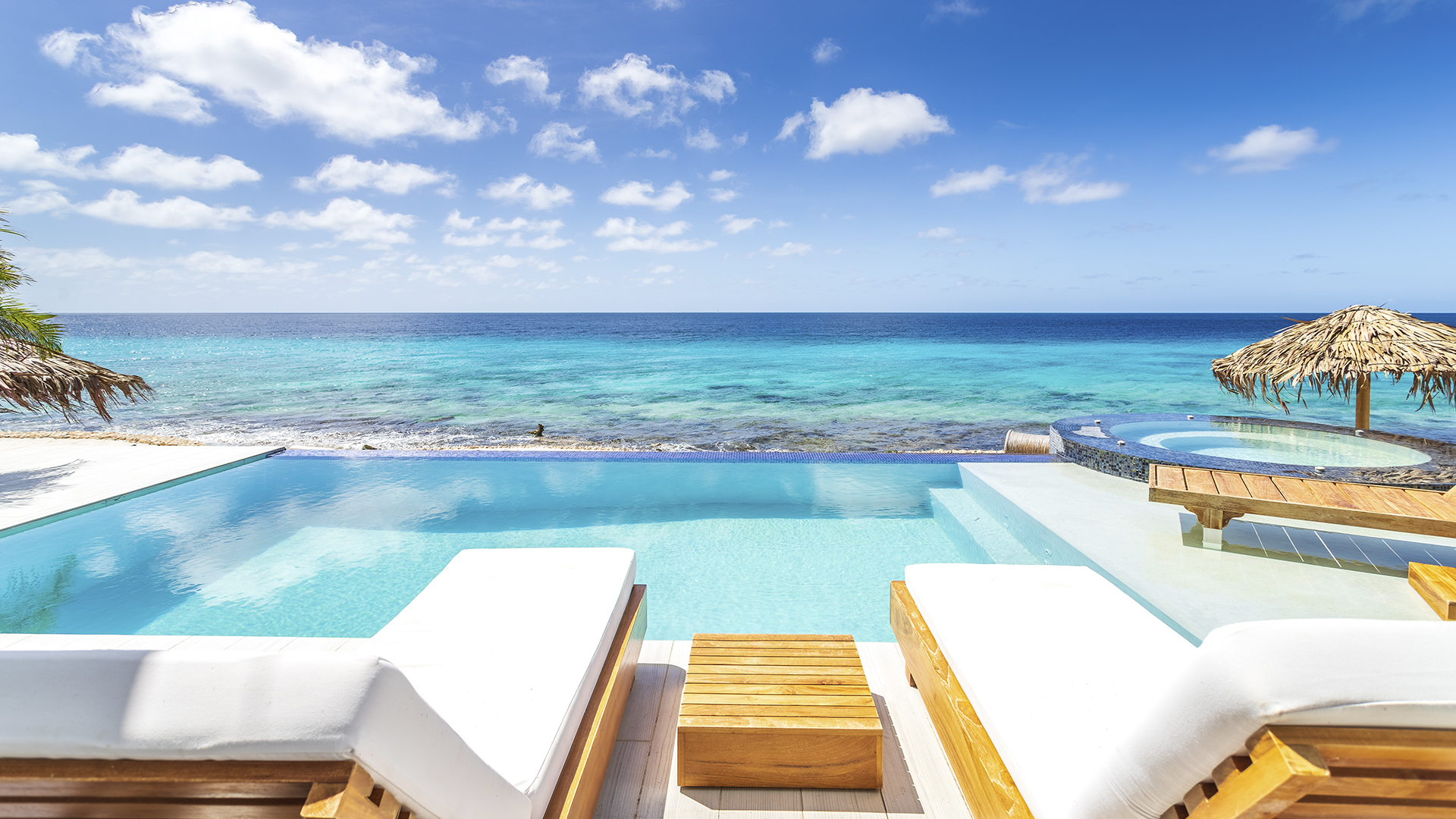 Paradise living.. true Bliss on Bonaire

Family Luykx, 2021
Location
This beautiful Villa is situated in the Southwest of Bonaire, in a pristine district, named Punt Vierkant.
Within a five minute drive you can reach Flamingo Airport and within ten minutes you will be in the center of Kralendijk.
Pure Villa Luna is close by the kite and windsurf beaches and many famous snorkel and dive spots. It is also possible to go diving or snorkeling in front of the villa but you have to wear water shoes. When you walk a bit to the left you will have a nice and easy entrance into the ocean where you do not need water shoes.
Located only 10 minutes from town (Kralendijk) or the Bonaire International Airport , yet well away from the noise and hustle of tourists, airplanes and cruise ships. One of the world's windsurfing hot spots and spectacularly beautiful ecosystems, Lac, and the equally famous Atlantis Kite Beach are both a mere 10 minute drive away.