Request
Please enter your wishes and we'll contact you with a quote
PURE VILLA LOTUS | with car rental voucher included!
EEG Boulevard, Bonaire
An introduction...
Enjoy the stunning views and the exceptional level of luxury staying at this Oceanfront villa, located on Punt Vierkant/ Esmeralda Beach, only less than 10 minutes from the centre of Kralendijk and also a ten minute ride to Sorobon beach.
Pure Villa Lotus is the place to stay for a vacation with your family or a group of friends, because of the diversity of spaces and all the room both in- and outside.
Thanks to it's styling and bringing luxury, the outcome is nothing less than a peaceful house giving a feeling of comfort and being at home.
The 6 luxury bedrooms all have comfortable beds, homey details and private bathrooms.
On the ground level of the house you will find a bedroom with en-suite bathroom with beautiful pool view. Here you also find a fully equipped kitchen with high-end appliances.
Gourmands will love the professional equipment: large cooking island, double American fridge, dishwasher, front loading washer and dryer and Keurig coffee machine.
Indulge yourself once with a private chef at home, and savor the exquisitely prepared local meals.
Entering the sliding doors to the outside you'll enjoy breathtaking views over the Caribbean Ocean.
Her terrace is equipped with soft outdoor loungers, tiki torches and BBQ grill.
Also on the first floor there are two more bedrooms, both with en-suite bathrooms. One with pool- and beach view
and the other is placed on the other side, next to the entrance of the house.
On the second floor there are three additional bedrooms. The Master bedroom here has a freestanding bathtub,
XXL (steam)shower and very large balcony with an sublime Sea view.
The other two bedrooms are located on the other side of the floor and both have en-suite bathrooms.
Load more
Rooms
6 bedrooms with 6 bathrooms:
Master bedroom with pool has king size bed, twin/single size bed, and crib
Master bedroom 2 has king size bed and crib
Guest bedroom 1 has queen size bed
Guest bedroom 2 has king size bed and steam shower
Guest bedroom 3 has queen size bed
Master bedroom 3 has king size bed, twin/single size bed, and crib
Rates
Weekly rates – High season '22/23 :
1-4 guests :   8.675,00 US$
5 guests :       9.160,00 US$
6 guests :       9.975,00 US$
7 guests :     10.280,00 US$
8 guests :     10.840,00 US$
9 guests :      11.400,00 US$
10 guests :    11.960,00 US$
11 guests :    12.720,00 US$
12 guests :   12.980,00 US$
Weekly rates – Low Season '22/23 :
1-4 guests :    7.230,00 US$
5 guests :        7.790,00 US$
6 guests :       8.350,00 US$
7 guests :        8.910,00 US$
8 guests :        9.470,00 US$
9 guests :      10.030,00 US$
10 guests :    10.590,00 US$
11 guests :      11.150,00 US$
12 guests :      11.710,00 US$
For Christmas period a +30% or a set rate applies, with a minimum stay of 14 nights.
excl. 15% service charge
excl. $ 5.50 tourist tax p/p per night (no tax for children < 13 years)
Amenities
Indoors
6 bedrooms, 6 bathrooms | accommodates up to 12 guests comfortably
Multi-zone air conditioning
Motorized window treatments, blackout curtains with tremendous views
Fully equipped kitchen with high class appliances, including large cooking island, Double American fridge, dishwasher, front loading washer and dryer and Keurig coffee machine.
Designer LED lighting
Indoor dining area
High speed wireless internet with uninterruptible power
Large flat panel televisions with premium cable and movie channels
Motion sensors, alarm system and automatic outdoor evening lighting
Loft office business center equipped with high speed wireless internet, multifunction printer/scanner
Outside
Infinity swimming pool with panoramic ocean views
Outdoor loungers and tiki torches
Jacuzzi
Dining area with built in BBQ grill
Private parking in carport
Services & extra
Included in your rental

Bubbels and fresh fruit at arrival in the Villa

Gas, water & electricity

Intermediate cleaning services (1x per week) plus end of stay cleaning after check-out

Intermediate pool cleaning

Linens and towels provided

Use of local phone (local calls only)

Exclusive use of the entire villa and outdoor facilities

Wireless high-speed Internet, WIFI, with uninterrupted power even during power outage

Personal Villa Manager at your disposal during the full length of your stay

Extra information

Children are very welcome!

Check-in from 4:00pm we ask you to leave the house before 10:00am on the day of departure

Average cleaning time: 4 hours

*Our guests receive specials / discounts from various dive shops, car rentals, restaurants and other companies

Booking conditions

Reservations are considered valid after receipt of a down payment of 30% of the total rental costs. The balance must be paid 6 weeks before the day of arrival.

If your booking is made within 6 weeks before arrival, you are required to pay the full amount immediately. In case of cancellation more than 6 weeks before arrival 50% of the received down payment will be refunded. No refund will take place in case of cancellation within 6 weeks before arrival. We therefore recommend a comprehensive travel insurance.

As of July 1, 2022, a tourist tax of $75 per visit to Bonaire applies to all non-residents aged 13 and older. The tourist tax can be paid online in advance or upon arrival

Damage deposit

A damage deposit of 1000 USD requested. If no damages have to settled, it will be returned to you within a week after your return.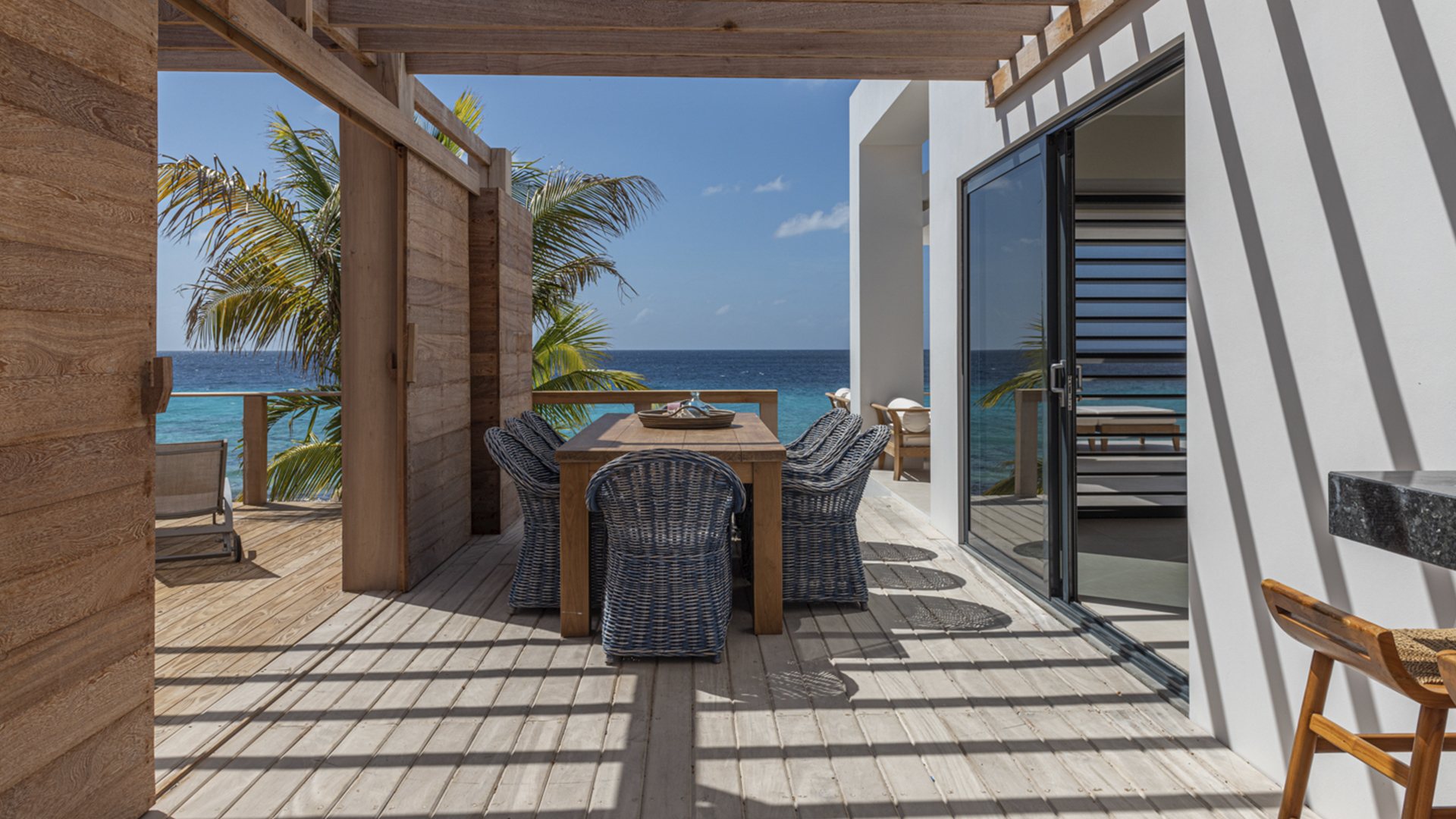 Directly oceanfront with panoramic views... is this a dream?
Location
This beautiful Villa is situated in the Southwest of Bonaire, in a pristine district, named Punt Vierkant.
Within a five minute drive you can reach Flamingo Airport and within ten minutes you will be in the center of Kralendijk.
Pure Villa Lotus is close by the kite and windsurf beaches and many famous snorkel and dive spots. It is also possible to go diving or snorkeling in front of the villa but you have to wear water shoes. When you walk a bit to the left you will have a nice and easy entrance into the ocean where you do not need water shoes.