Request
Please enter your wishes and we'll contact you with a quote
PURE VILLA LANAE
Tabanan - Bali, Indonesia
An introduction...
Only meters from a deserted beach on Bali and with a breathtaking 360- degree view of mountains, rice fields, the Indian Ocean and black sand beaches, is a spectacular six-bedroom hideaway known as Pure Villa Lanae.
In this one-of-a-kind sanctuary, every comfort has been considered and personal service is of the essence.
This is a place to escape and enjoy peace and tranquility in beautiful surroundings, with personalized service and excellent food.
If you choose to stay at this exclusive retreat, you will experience Bali's ultimate in elegance, quixotic beauty and genuine luxurious appeal. In fact, you will never want to leave…
Getting to Pure's Villa Lanae incorporates a delightful journey through traditional villages, via quiet country roads, wooded valleys, causeways across rivers and, finally, a simple track that winds through the swaying fields of rice.
Upon arrival, your senses will be awakened by the purity, spirit and timelessness of an extraordinary landscape.
You will be greeted by welcoming Balinese smiles, the fragrance of tropical flowers and the constant sound of the waves.Enjoy the majestic landscape of rising volcanoes – from Mt Agung in the east where the sun will rise, to Mt Pohen,
Mt Sangkiang and Mt Batukau – the island's second highest volcano – rising just 20 km away.
THE HOUSE
The two-storey villa is characterised by white Yogya stone walls, cream terrazzo tiled floors, lime-washed timbers, and a colonnaded walkway on either side, on both ground and upper floor levels.
Her style is modern and minimalist, cleverly blending sophisticated elegance with the ambience of the setting. The architectural concept reveals comfort and simplicity, while the interiors unobtrusively introduce natural materials, fabrics, and colors.
There isn't anything ostentatious about this villa; the chic simplicity ensures that nothing detracts from the incredible view.
The villa comprises several living areas.
The open-air living room on the ground floor is furnished with large and comfortable cream sofas and a stone staircase that takes you to the upper floor. This room welcomes the fresh and cool ocean breeze on one side and opens up for a stunning view over the rice fields behind a 'floating' 2.5-metre-high Buddha statue, on the other side.
Adjoined with the living room is an air-conditioned lounge with sliding doors, also with breathtaking views and cross ventilation of sea breezes. This room has a Harman/Kardon music system with seven speakers and a wide choice of music, a pool table, games and books.
A single-story guest wing, linked to the main building, presents two guest rooms and a spacious media room with a big flat screen TV and DVD player.
The dining room offers amazing views of the garden, swimming pool and ocean, and adjoins with the fully equipped kitchen.
OUTSIDE:
Villa Lanae has a large garden surrounding the house and a swimming pool located in the front, ideal for swimming laps and curved in a way that invites you to relax in the shallow, cooling water while watching the waves rolling in on the beach just footsteps away. And you are 13 meters above sea level…
In the garden, you find a separate children's pool – the Buddha pool (40cm deep) – long chairs and umbrellas. The children's pool, together with the baby-sitting services as well as baby cots and chairs offered at the villa, makes Villa Lanae a good choice for families traveling with kids.
Villa Lanae is supported by a cherished 'family' of friendly staff who fulfill their duties with enthusiasm and smiles. They are never intrusive, yet they are always there to ensure that you will experience a truly enjoyable stay. Their genuine enthusiasm, warmth, and service from the heart is charming, modest and unassuming.
The team is headed by a Villa Manager who oversees and coordinates the staff and property, and is available to assist you during your stay. Lanae's team also includes a Chef, Butlers, a gardener/pool attendant and Security Guards.
The Chef is highly accomplished in the preparation of both local and international cuisine, and specializes in the use of the fresh and organic produce of this fertile little island, together with imported meats and gourmet products.
The staff is also responsible for all the market shopping, in accordance with your needs.
A driver and car is available, as well as baby-sitting and massage services.
At Villa Lanae, they can also arrange helicopter tours, which provide the opportunity to fly over parts of Bali and nearby islands that few tourists get to see. Additionally, you might want to visit Borobodur, the ninth-century Buddhist temple complex on the neighboring island of Java, which is one of the greatest monuments in the World.
Load more
Rooms
All bedrooms have ensuite bathrooms, are air-conditioned and equipped with a safe deposit box, minibar. Four rooms also have an iPod dock.
Each room provides gorgeous views of the ocean and gardens, or mountains and rice fields with an Indonesian inspired interior design.
The stunning Master Bedroom offers a panoramic view in all directions! It has a gorgeous private terrace and a King-size bed with a deep mattress resting on a base of antique ironwood planks.
The bathroom – long, spacious and open to the sky – has double washbasins, mirrors, toilet, and double rain shower.
The second bedroom overlooks the ocean from the upper floor. This room entails a King-size bed, dressing area and an open-air bathroom with a bathtub for two, twin washbasins, a raindrop shower with a handheld shower, large mirror and toilet – all sheltered under an overhanging roof.
The third bedroom is located on the upper floor and is a spacious family room. It features two King-size beds, hanging and storage space, and a bathroom with similar features as to the second bedroom.
The fourth bedroom overlooks the ocean from the ground floor. Located in a pretty corner of the garden, this room has a King-size bed and a bathroom, which is open to a private walled garden.
The bathroom has a bathtub for two, twin washbasins, a raindrop shower with a handheld shower, carved wall mirrors, and a toilet.
The fifth bedroom is a twin-bedded room located in the single-story wing. With a lot of hanging and storage space, this room overlooks the volcano Mt Agung, which is the highest mountain and volcano on the island.
This bedroom also has a bathroom that is open to a private garden, with twin washbasins, a toilet and a raindrop shower.
In the single-story wing is the sixth bedroom offering similar features as to the fifth bedroom, with views over the mountains and the rice fields.
Rates
| | |
| --- | --- |
| Low Season | from € 1.106,00 per night |
| High Season | from € 1.646,00 per night |
| * Rates are subject to an additional 10% VAT and 5% service charge | |
Amenities
Indoors
6 Bedrooms - 6 ensuite bathrooms | accommodates up to 12 guests comfortably
Air conditioning in all bedrooms
Fully equipped kitchen with an imported oven, five-burner hob, double-door refrigerator, built-in wine cellar, wine fridge, cappuccino/espresso machine and microwave,
Open-air living room, complete with a soaring roof and an upper gallery on either side
A teak dining table, complete with stool seating, can accommodate up to 18 guests
Media room, equipped with a flat screen TV, satellite-channels, DVD player, library of books, DVDs
Billiard table
Outside
Large swimming pool (27 x 11 mtr), surrounded by sun loungers, with large gardens stretching out all around the Villa
Large outdoor dining table with massive views
Helipad
Private parking
Audio / Video
Broadband internet access
Harman/Kardon Music System
flat screen TV in Media Room
DVD player
Library of books
Services & extra
Services included in your rental

Welcome drink, fruit basket and complimentary water / soft drinks on arrival

Gas, water, electricity

Daily breakfast

Services by Villa Team including Private Chef service and 24/7 security guards

Daily housekeeping

Car and driver for 8 hours/day (excl. petrol)

Use of Wi-Fi in the villa

Personal Villa Manager at your disposal during the length of your stay

Extra information

Children are very welcome!

Smoking is not allowed inside the house

Check-in from 2:00pm we ask you to leave the Villa before 12:00am on the day of departure

Late check out until 6:00pm can be arranged at half the rental rate (subject to availability)

Minimum stay: Low Season 3 nights, High Season 5 nights, Peak Season 7 nights

Services available upon request, at extra costs

Extra child- adult sized bed USD $50 per night

Children's equipment (cot, highchair, Baby monitor, car seats, strollers, pool fence etc.)

Spa treatments

Personal Yoga- and Fitness trainer on call

Indonesian Cooking Classes

Nanny service

Booking conditions

Reservations are considered valid after receipt of a down payment of 50% of the total rental costs. The balance must be paid 6 weeks before the day of arrival.

If your booking is made within 6 weeks before arrival, you are required to pay the full amount immediately. In case of cancellation more than 6 weeks before arrival 50% of the received down payment will be refunded. No refund will take place in case of cancellation within 6 weeks before arrival. We therefore recommend a comprehensive travel insurance.

Deposit

A damage deposit is required. The deposit must be paid with the balance payment 6 weeks before arrival. Refund will be made on your account within 7 days after leaving the house.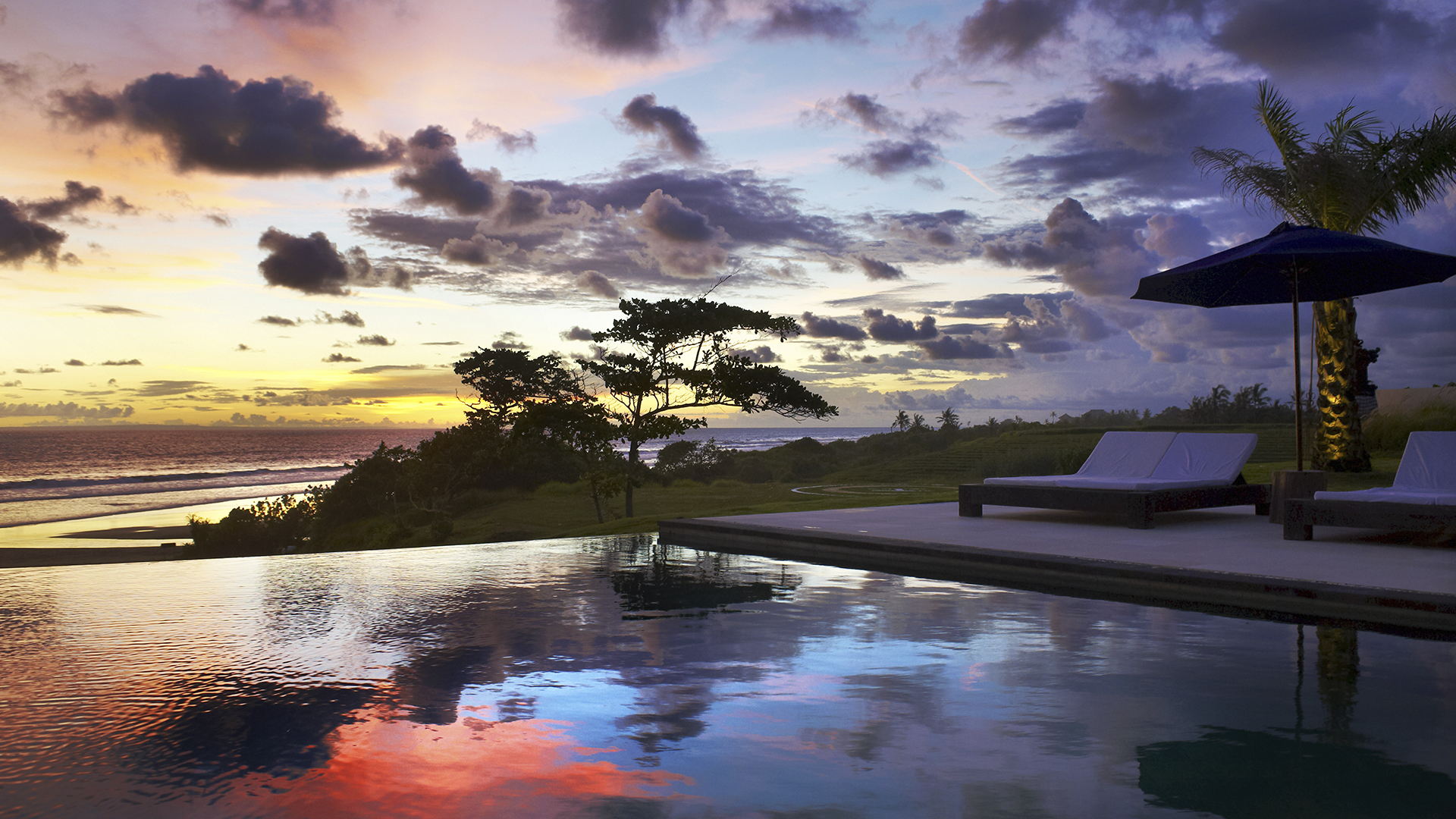 A place to escape and enjoy peace and tranquility...
Location
Pure Villa Lanae is located on Bali's west coast, in the Tabanan Regency. This is a coastline famous for its surf beaches, including Medewi and Balian, which offer the longest point breaks in Bali.
Depending on the traffic, the villa is 90 minutes' drive from Bali's international airport and less than one hour's drive from trendy Seminyak with its exciting nightlife and abundance of fashion boutiques, luxurious spas, and internationally acclaimed restaurants – including the famous Ku Dé Ta, Kafé Warisan, Sarong, La Lucciola, Sardine,
and Potato Head.
Nirwana Bali Golf Course is less than 30 minutes' drive. Designed by Greg Norman, this was voted the number 1 golf course in Indonesia; it is situated beside the dramatic, waved-lashed sea temple of Tanah Lot.
The Tabanan Regency is known as Bali's 'rice bowl' – the most agriculturally productive area in Bali. It is also home to the 2276 meters Mt Batukaru. Local guides will lead you on anything from gentle hikes through the forests and jungle, to challenging treks up the mountain. The food forest yields coffee, cacao, palm-sugar, vanilla, candlenut, cloves and tropical fruits such as durian, jackfruit, mangosteen, salak (snake fruit), coconuts and avocados.